The event calendar and all the functions in happyhotel
Contents
1.) The calendar
The calendar itself is a means of recording all kinds of events, events or even holidays. So far nothing new. The main function, however, is of course the creation of new events. Otherwise, it allows the simple import of nationally known events, including of course all possible public holidays, vacation times or similar. For this it is only important to have created the user in the correct country!

The events are of course not only displayed in the calendar itself, but also in the price overview, but more on that later.

The second view of the calendar is organised according to events, which makes it easier for you to search for a specific event if you no longer know exactly when a certain event is taking place.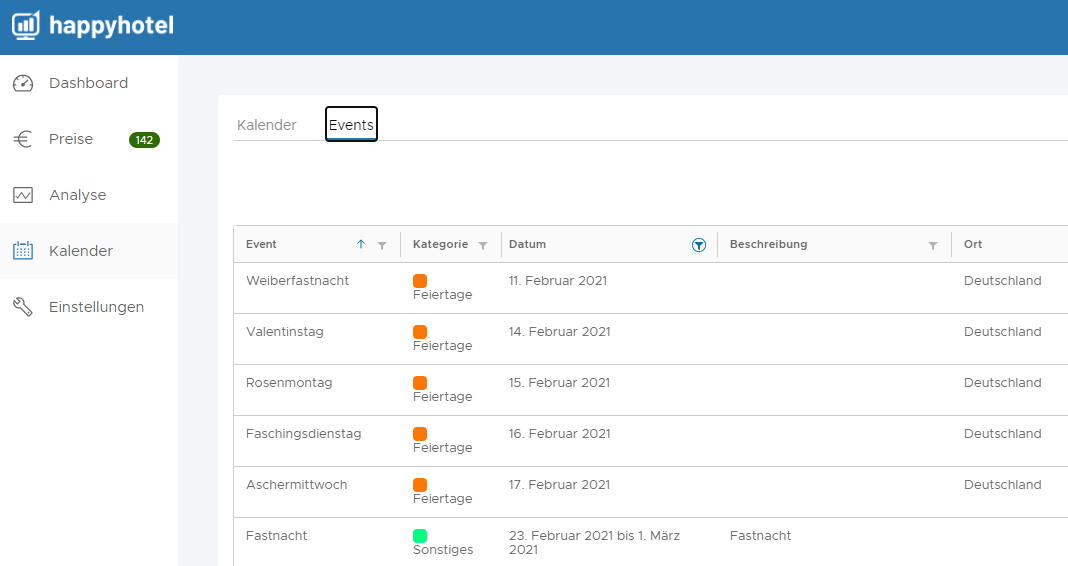 2.) Choose and import events
The event import facilitates the time-consuming work of selecting the events according to federal state or relevance at all, especially when setting up your own happyhotel profile. All relevant events can be easily selected and imported directly into the calendar. Individuals can also be left out as you wish.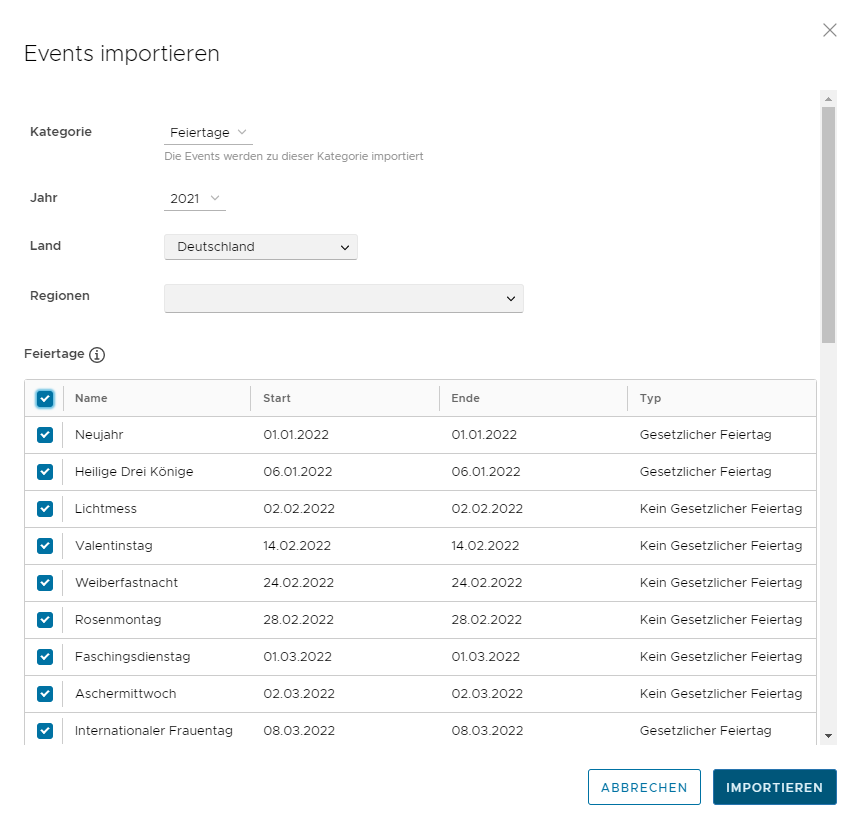 3.) Create a new event
Of course, there are also one or the other company or city-specific event that is best added to the calendar. To do this, you can simply select "Add event" and fill in the description, and it's done. The event can of course be on a single day or, as in this example, over a period of time.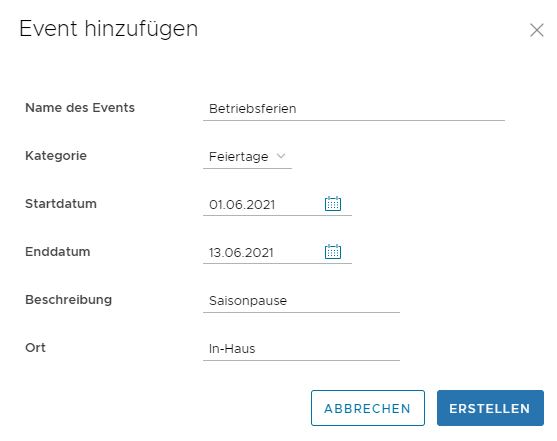 4.) In the price calendar
The price overview is one of the most important aspects of the happyhotel software, especially in the full version. Price proposals and changes are generated and made here, and price levels are also applied.

Thus, of course, information on all kinds of events cannot be missing here as a reference. They are displayed in addition to the time-filtered selection so that you can use them to set up the prices without having to use the calendar.
5.) Our event slider
To make full use of the events aspect for your company, we have developed an events slider. This slider is a function that allows you to assign a certain importance to each event - be it a holiday, trade fair, internal event or holiday week!

This enables you to qualify each event in view of your company and thus to convey to the algorithm in advance how much it should take this event into account in its calculations when using the full version. With this additional function, you can mark and highlight the events that are particularly important for your business even more clearly, set the optimal prices for you and any other users, as well as the happyhotel algorithm and the optimal prices for every situation.
- Back to the table of contents - Click here to get to our lexicon!