Data export of your analysis
happyhotel offers its analysis help in every plan. The analysis can be displayed efficiently and clearly and for revenue management itself, you will find detailed notes on the respective terms in our lexicon. We have highlighted the indicators and various analysis areas in this article, as the following article deals with the export of the data file.
Contents
1.) The analysis and the right filter setting
The analysis of the various key figures is mainly set by the correct filter. The filter indicates which period you are measuring, which previous period you would like to optionally compare it to and which booking status or which dimension you would like to take a closer look at.

The view of the filter and its settings is pretty straightforward:

This filter is relevant and adjustable for all key figures. The exact time period can be set in the left-hand section, the dimensions such as the booking channel in the middle, and the booking status on the far right. For example, all cancellations or optional bookings can be conveniently filtered out there.

The only exception is the pick-up report, which in itself focuses primarily on the distinction between booking period and pick-up date as well as on the distinction between absolute bookings and the associated nights or sales. These filter options are shown in the following image:

2.) Data export
The analyses in happyhotel are very helpful for anyone who has already dealt with large amounts of different data. There is a simply structured data export so that these can also be copied or simply saved. This can be conveniently selected by right-clicking on the desired diagram with the "Show details" option.

Visible here below: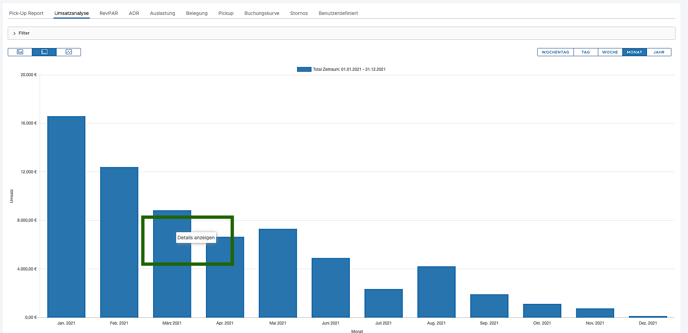 In the following step, the overview of the data of the selected diagram is already visible. This data list is simply exported to a .csv file and this file can be saved within a very short time. Of course, the data is still available in happyhotel and can be viewed at any time.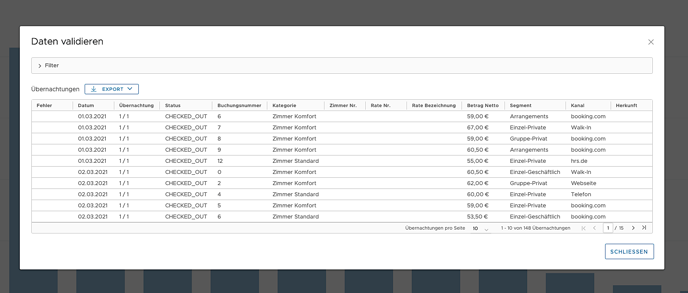 Further information and background information on various analysis types and revenue management can be found in our blog!
3.) Alternatives
Of course, exporting a diagram as a graphic is also very easy via the "Print Screen" option of the browser (entire website) or by right-clicking on the graphic of the diagram (only the diagram is saved as a graphic).
- Back to the table of contents - Click here to get to our lexicon!