The Rate Shopper
Contents overview
1.) Aim of the Rate Shopper
As mentioned in our article on the autopilot, we at happyhotel firmly believe that it can be very helpful to know the pricing strategies of competitors in the hotel market. Even if these are not included in the algorithm, it is important to know what the current price situation is and how it is developing. This allows you to analyze your own decisions and to be informed about the daily price adjustments. That's why we developed the Rate Shopper.

This should above all do one thing; provide an overview of the day-to-day situation of your direct competition. In addition to the price recommendations of the algorithm, which are generated using your hotel's own data, you can make further manual changes and adjustments in order to catch unusual developments on certain days or periods. Here is a little insight: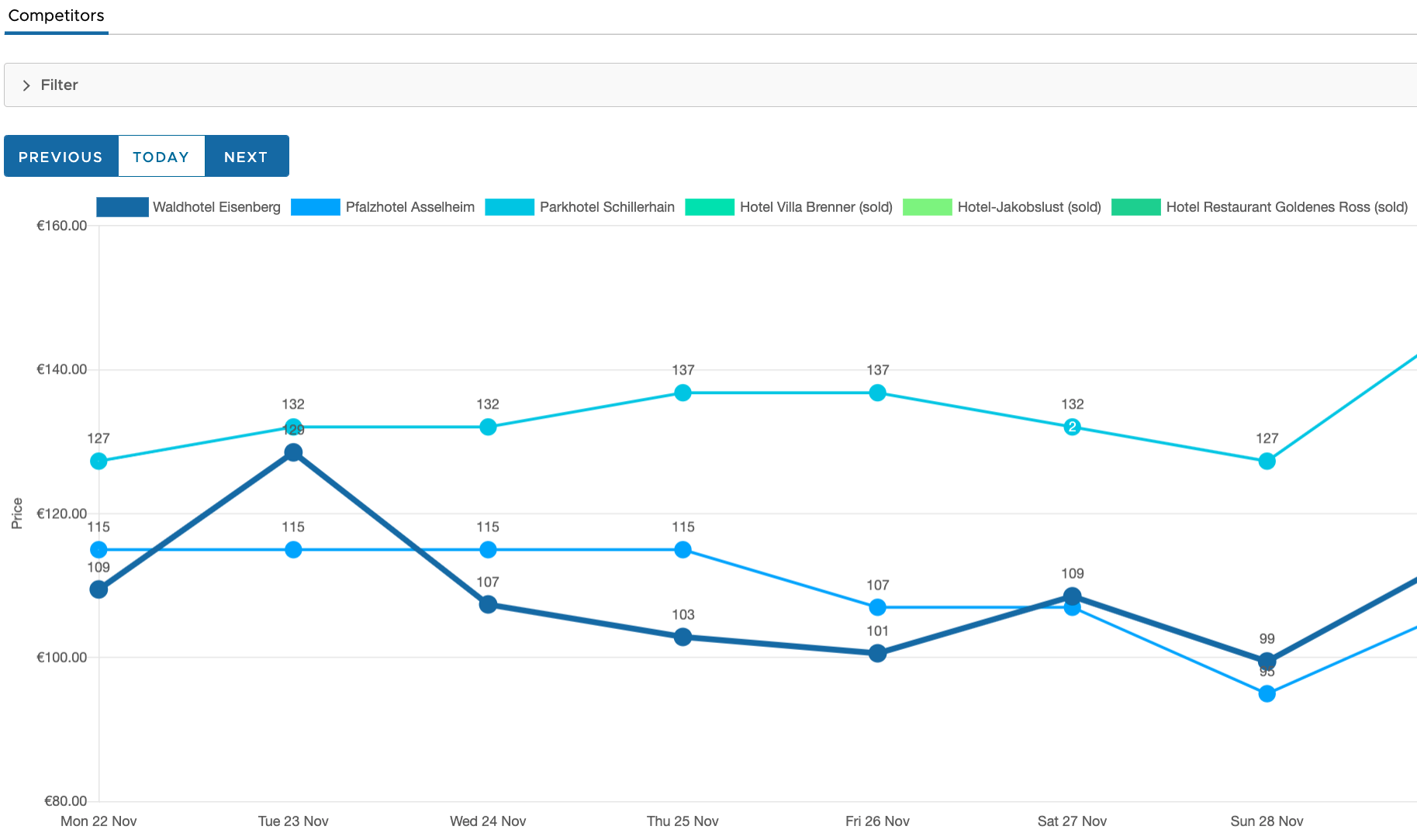 2.) Configuration of the competitors

So that we know which hotels you would like to have a look at in comparison, you can name up to 5 of your closest competitors in the first kick-off meeting with our Customer Success Team and we will then transfer the data from an online channel such as Booking.com into your happyhotel account.
With our settings you can of course also specify what you want to focus the view on - flexible rates with breakfast, non-refundable rates, etc.
Depending on how you want the settings, the relevant information will be displayed in the price calendar!

Such a setting as shown here would have the following effects on the price calendar: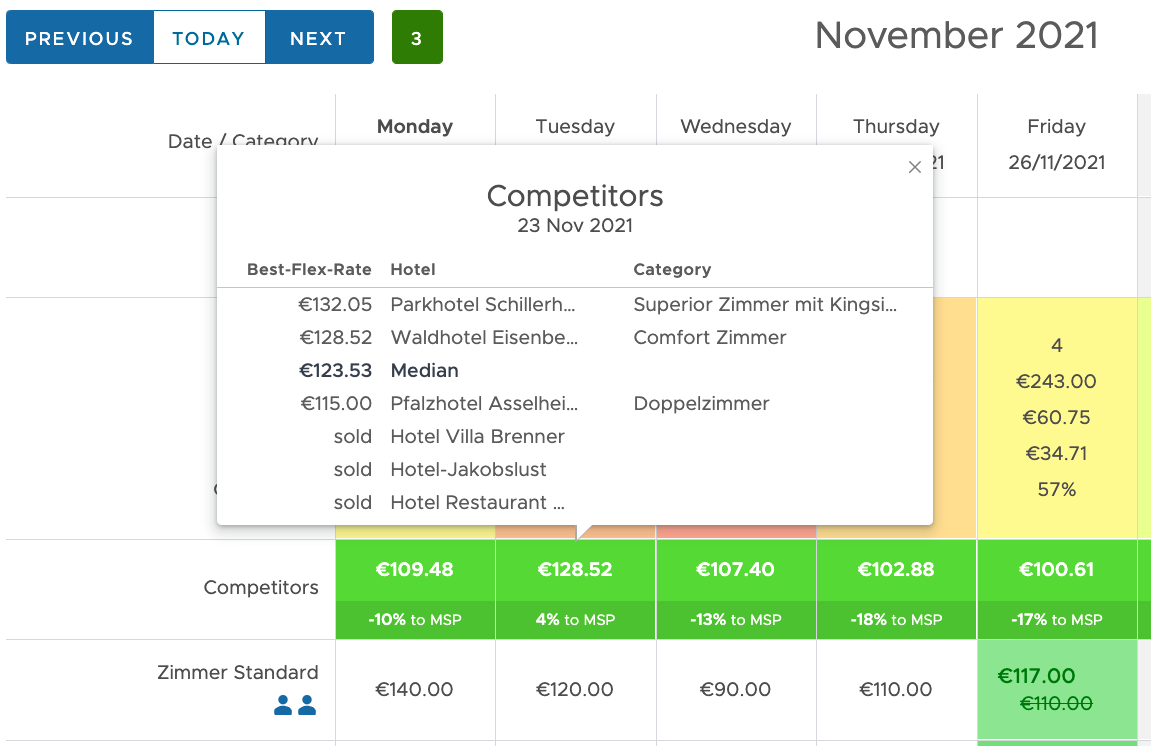 Only the available rooms that the specified settings apply to are then displayed here. In other words, if a "Non-refundable Rate" is selected in the settings, all rooms that are available for booking with that specific rate will be filtered respectively. A competitor that does not have a "Non-refundable Rate" available to book would then be shown as "Sold Out". The more flexible or unspecific you want the settings, the more different rates and conditions are displayed. Through filtering what you need, you can draw many different, specific conclusions and incorporate appropriate decisions into your pricing strategy.
There are also the same filter options in the competitor view as in the settings. So if you want to look at different market offers, you can do this easily using the same functions in the filter. As previously mentioned, if your competitors don't have any offers on certain terms (e.g. breakfast included), they will show as "Sold Out".
3.) Allocation of room categories

In addition to the standard settings, there is also the option of grouping the different room categories. This is used to select specific room categories that are to be displayed or analyzed in more detail. In the standard setting, the Rate Shopper makes no distinction here - all rooms are displayed, provided they are available on the selected booking channel. However, if you want to compare the double rooms in particular, in order to be able to draw specific conclusions for the prices of a certain room category, a grouping makes a lot of sense. Here is an example of what that might look like:


Under these settings, only the listed double rooms would be displayed in the Rate Shopper. If a competitor no longer has any double rooms available, it will be displayed as sold out for these categories. Here you can easily switch between the "Not Mapped" standard grouping and the specific view in order to be able to compare general availabilities with the availabilities of the double rooms.

The happyhotel rate shopper is an additional module, which is not absolutely necessary in order to pursue dynamic price strategies. However, with the help of all the settings mentioned, it can provide a lot of useful information in order to identify trends, price developments or simply time periods that are unusual in terms of price and to be able to plan and reconsider your own decisions accordingly.
Not every hotel has direct competition - not every hotelier needs the prices of their competitors to find their own best prices. Nevertheless, happyhotel wants to give the opportunity to provide all information that could be relevant for price decisions.
- Back to the table of contents - Click here to get to our lexicon